The Spring heralds the start of wedding season for us at DegreeArt. From excited couples planning their wedding gift lists to guests on the hunt for a unique wedding present to give the betrothed a gift to remember, our artists are busy creating bespoke and perfect pieces to mark the special day.
We offer a gift list service where couples can choose to ask guests to contribute towards their chosen piece or art collection or they can ask for Art Vouchers to spend after the big day.
Please visit our dedicated Wedding Gift List page and browse out Top Ten Wedding Gift ideas below.
Please contact the team: Isobel Beauchamp Isobel@DegreeArt.com (0)20 3701 7411
 
---
Our Top Ten Wedding Presents Ideas for 2019:
NUMBER ONE | FLORAL TRIBUTE
The wedding corsage and bouquet may not last much longer than the big day but a floral painting will endure. Allow us to suggest artwork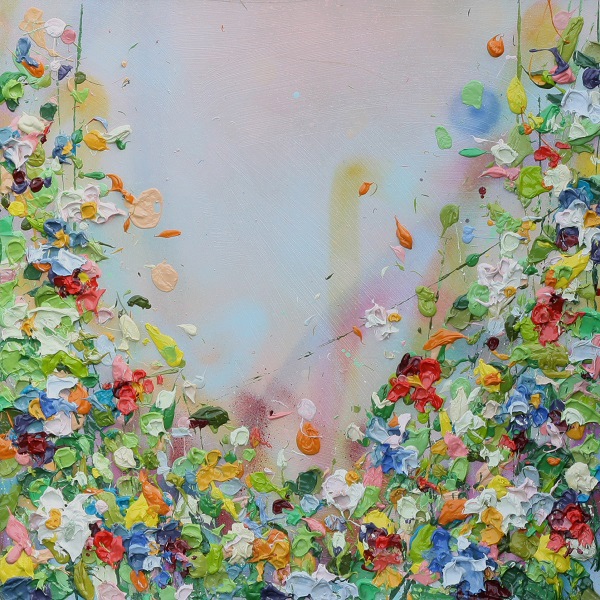 'Summer Horizon'
75 x 75 x 75 x cm
£1,200.00 (smaller paintings from £400.00)
A firm favorite of the team here as a gift for friends and family weddings, Lee Herring's paintings, which are framed and ready to hang, are a real mixture of mediums, spray paint, varnishes, acrylic.
Who doesn't love tulips! Vivid reds on a contrasting green background really makes this one 'pop'! Ready to hang.
22.5 × 26 × 13 cm
A pair of bronze forms on an oak base.  The natural bronze is exposed on the edges and is treated with an additional tranlucent golden patination on one of the sides and the front.
Just Married - Artist photographic print on C-type paper with a gloss finish, signed on the reverse and supplied in a clear sleeve. This piece is not framed but we can assist with the framing.  The artist is also available to be commissioned to make a bespoke piece.
45 x 45 x 0.1cm
Hand- embroidered certificate, documenting the marriage of the artists parents in 1985. Calico on box stretcher, presented in a matt black float frame.  Commission the artist to create a hand embroidered piece of your wedding certificate.
The artist created a personalised wedding invitation design for a couple getting married in Brighton Pavilion this year. She included several of the iconic landmarks of Brighton too; the seaside, West pier, deckchairs, beach huts, plus the lovely couple themselves and their pussycats too! It was a really sweet project and nice to use lots of bright spring colours!
Digital C-type, Durospec Reverse perspex mounted, Limited edition of 50. These personal letters are like a visual poem, the scrawl of the handwriting, dusty smell, texture, old stamps are like a biography of someone's life, some more warn than others, have been read and re-read.