Andrea Tyrimos
Central Saint Martins College of Art and Design (BA Fine Art , 2017)
Andrea Tyrimos is represented by Contemporary Collective. Please visit www.contemporarycollective.com to view her portfolio.
A graduate from the prestigious Central St  Martins, Andrea pushes the  boundaries of portraiture, uniquely combining both visual and audio elements. Through her work, Andrea is able to give mental illness, a seemingly invisible illness, not only visibility, but also presence.
Since graduating in 2009, Andrea has exhibited extensively, including London solo shows, and exhibitions in the UK and Europe. She was recently a finalist for the Global Art Awards, and has received the Signature Art People's Choice Painting Award, and the Art & Escape Award.
Her Bipolar Picasso series of art installations has received critical acclaim; featured in publications such as the Guardian and America's Ability Magazine, and has led to the artist being interviewed live on BBC Global News. Other press includes the Evening Standard, Time-Out and Elle magazine, and London Live TV.
Bipolar Picasso is an art installation featuring a series of intimate paintings and audio recordings, of people who have experienced mental health issues. A range of mental health illnesses  have been explored via the physical medium of  paint, while the creative use of audio reveals the spoken words and innermost  thoughts of each sitter. The  viewer becomes fully  immersed in a sensory exploration of the mind. 
 "Rendered in washed-out oil colours, minimalist detail to hair and clothing bringing out their vulnerability through their eyes. I've always felt that mental illness is something you wear on your face. Tyrimos has captured that"
- The Guardian
+ Expand to read more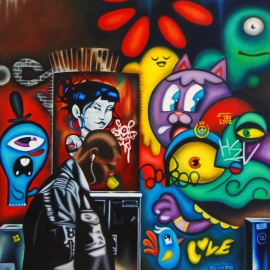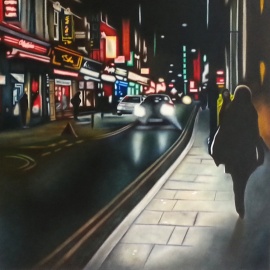 Press
| Publication Title | Job Title | Date |
| --- | --- | --- |
| Ability Magazine | The Picture of Mental Health on the London Art Scene - Bipolar Picasso by Andrea Tyrimos | Fri, 11/18/2016 |
| Street Art Atlast | Andrea Tyrimos's 'Bipolar Picasso' exhibition | Tue, 11/15/2016 |
| Inspiring City | Andrea Tyrimos creates 'Bipolar Picasso' (article & podcast) | Sat, 10/29/2016 |
| FAD website |  Top 6 Exhibitions to see in London this week | Sun, 10/16/2016 |
| London Calling Blog | Andrea Tyrimos's 'Bipolar Picasso' Exhibition | Sun, 10/16/2016 |
| The Guardian | 'My nose is askew, my chin is formidable – it's me, all right' … a portrait of my mental health | Wed, 10/12/2016 |