Andrew Farmer
The Prince's Drawing School ('The Drawing Year' , 2009)
Andrew was born in 1985 in South Yorkshire, he studied Fine Art Painting at the University of Canterbury Christ Church (2005-2008), followed by 'The Drawing Year' at the Royal Drawing school, London (2008-2009). Painting primarily in oils Andrew tackles a range of subjects including domestic family scenes (Interiors and garden), landscape, cityscape and portraiture.
Andrew produces work which is heavily rooted in observation. The Artist thrives on the act of looking, analysing and trying to understand the world around him.
"I'm a strong believer in tapping in to my locality for inspiration, to the point of permanently setting up my equipment in the garden. In this way I'm always ready to work directly from highly personal family scenes in the warmer months. It also enables me to experiment on a much larger scale than usual."
Sketchbooks play an important role in Andrew's creative practice. Drawings serve as a vehicle to solve problems within his paintings, explore new subjects or simply to practice with no end in mind.
"I think it's such an important thing to keep on searching and experimenting and sketchbooks offer me a place to do this, spontaneously and on a variety of scales and formats."
Family is a vital bloodline to Andrew's creativity he finds great inspiration in his young family, in the form of intimate individual portraits and large scale oil paintings of family life around the home and garden.
"I love to paint the ordinary, elevating simple subjects that will cause the viewer to take more notice of the many wonderful and beautiful things surrounding us daily."
+ Expand to read more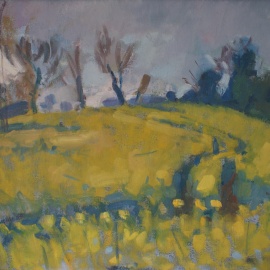 Awards
| | | | |
| --- | --- | --- | --- |
| Winsor and Newton Young Artist Award | Royal Institute Of Oil Painters | Winner | 2019 |
| Paint Out Norwich | Paint Out Norwich | Winner | 2019 |
| Doncaster Plein Air Painting Award | Doncaster Art Fair | Winner | 2019 |
| Create Longridge 2018 | Create Longridge | Winner | 2018 |
| The New Fringe Open | The New Fringe | Winner | 2018 |
| Richard Ford Award | Prince's Trust/ Royal Drawing School | Winner | 2017 |
| The Royal Society Of Oil Painters ROI Exhibition 2015 | ROI Mall Galleries | Winner | 2015 |