Jill Iliffe
Wimbledon College of Art (MA Fine Art, 2009 , 2009)
Jill specializes in figurative work with a contemporary feel.  The subject matter of the work is wide ranging but revolve around ideas of contemplation, personal histories and memory.  
The work based on old photographs investigates the narrative of family, archive and memory.  The photograph becomes the memory itself over time, creating in some cases a fictional memory as the true memory of the moment becomes lost. The narrative of the moment can become changed and embellished over time. The creases are carefully recreated in the first paintings and in the second paintings the crux of the photograph is focussed on creating a more graphic and joyful image. 
The nude paintings reference old master drawings, which were often in a red chalk.  The artist loves the classical skill of life drawing/painting and its long history within art practice. The aim is to bring a three-dimensional value, whilst painting the beauty of the nude form, allowing, in some cases the raw linen to show through. The nudes are isolated, very closely cropped, the faces not visible, showing only the body.  These are mysterious nudes.
+ Expand to read more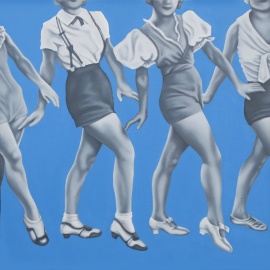 Awards
Rootstein Hopkins Student Award
Press
| Publication Title | Job Title | Date |
| --- | --- | --- |
| Sky Portrait Artist of the Year | Series 7 | Mon, 11/09/2020 |
| Work included in coverage of Bayern Munich female FC playing Oman on German tv | | Sun, 02/09/2020 |
| Sussex Life | Artist profile | Sat, 11/09/2019 |
| Murze Magazine | Portraiture, Reality and Change | Wed, 10/09/2019 |
| Art Quarterly | Review of Football is Art | Mon, 09/09/2019 |
| The Guardian | Moving the Goalposts | Fri, 04/09/2010 |