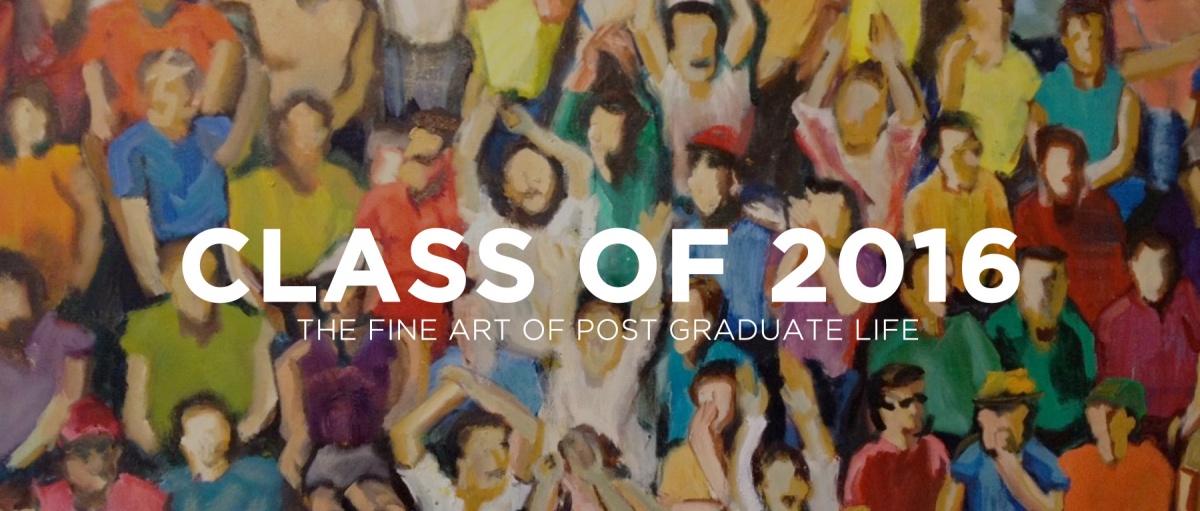 The 2016 Degree Show season has well and truly begun with more than 45,000  students graduating across the UK from creative art and design courses this summer. (Higher Education Statistics Agency)
We take a look at the creative industry's employment landscape and the challenges and opportunities that await this year's graduates.
            Britain now has 160,000 undergraduate and postgraduate students in "creative arts and design", with more than 20,000 in drama alone. This is more than in the whole of engineering or in maths and computing combined. (The Telegraph)
This time of year, the team at DegreeArt meets with hundreds of graduates in our search for the crop of new artists to work with. Over the last thirteen years we have found that we see equal measures of graduates continuing to be artists as those who are diverted by alternative careers.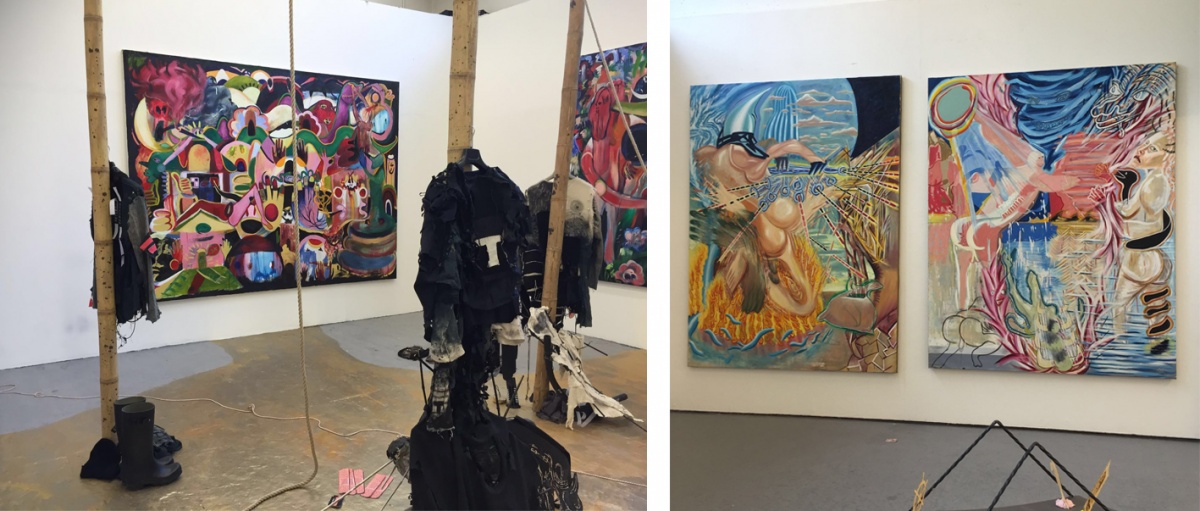 Graduating artist work installed at the May 2016 Slade BA Hons Fine Art Degree Show
Fine arts and media graduates have some of the lowest rates of those in full-time work or further study with figures suggesting just 51.2% of fine art graduates are in full-time work or further study following graduation. (The Telegraph)
Whilst this may appear on the face if it to be a worrying statistic we have to consider carefully the way fine arts graduates will most likely choose to manage their post graduate careers.
Being an artists, designer or illustrator, full time, straight out of university is clearly the dream yet the reality is that graduates find that they need to take on part time work, often not in their industry, whilst they charter the unknown territory of how to actually make a living from their art.
This is not to say that launching a career, fulltime is not possible and we bear witness to the incredible talent and entrepreneurial spirit of young artists who have laid careful foundations for their careers, networking with galleries, growing their online presence and building their brands in order that that are able to begin selling their work full time the summer they leave their campuses.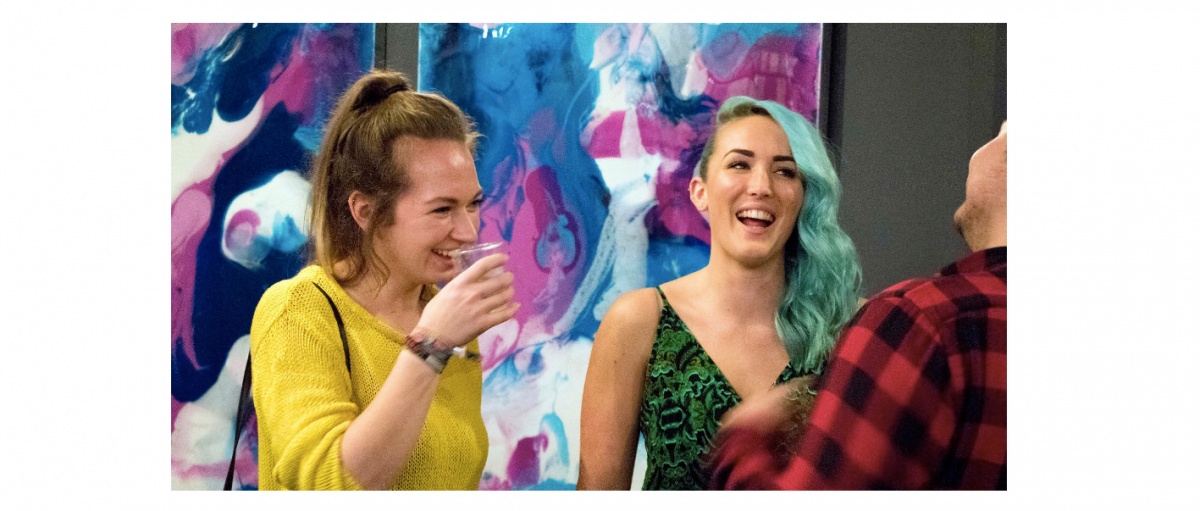 Goldsmiths, University Of London (BA Hons Fine Art)  2014 graduate Claire Luxton at her 2016 Solo Show at DegreeArt Gallery
Additionally, creative people often set up their own businesses as by their very nature they are able to work alone to create items for sale. The European Cultural and Creative Industries Alliance found that between 2010 and 2014 the value to the European economy of goods and services produced by the high-end cultural and creative industries grew by nearly 28%. (ECCIA)
Universities have begun to improve their post graduate professional study programmes, the balance is still tipped heavily towards the practical elements of fine arts courses whilst at uni with, we would rgue, still not enough emphasis being placed on considering how you will be employed post graduation.
As Simon Jenkins in the Guardian argues, graduates in the arts are actually high achievers in finding work outside their skill group. They take chances and do not regard money as everything. They seem better equipped to use their imagination and challenge conventional wisdom. (The Guardian)
The Creative industry is one of the UK's fastest growing sectors with new jobs becoming available all the time. According to the Creative and Cultural Industries 2013/14 report there were 1.71 million people working in the creative industries in 2013 – a 10% rise from 2011 and with unemployment rates now at a ten year low we must assume that this is tend that has continued to benefit arts garduates.
The statistics also show that 85% of companies in the UK's creative industries employed fewer than 4 people, 14% employ 5 to 50 people and only 1% employ more than 50 people. This proves how important it is for Art and Design graduates to be proactive when looking for a career in the creative industries and not to rely on employment by a big company as is the case with some other sectors.
In conclusion, studying for a Fine Art or creative degree continues to be a highly worthwhile endeavour with industry relevant career opportunities waiting at the end of the course for those who plan carefully and are prepared to adapt their skills.
DegreeArt.com Directors Elinor Olisa and Isobel Beauchamp's Top Tips for Fine Art Graduates of 2016:
---
Be prepared to take on a job – ideally a job that compliments your artistic productivity, be that working in an a gallery, somewhere where the hours allow you still to create work or simply somewhere that you get a great staff discount (perhaps on art materials).
Do a cash flow and know how much money you need to live and continue to make artwork.
Find or designate a studio space (even if it is half of your kitchen table) as losing your university studio can have a huge impact on your productivity
Don't change your mobile number or email address in the first year of graduating as galleries and prospective clients hold onto your card often for months before being in touch.
Have an up-to-date website  WITH YOUR DEGREE SHOW WORK LISTED and again – ensure your contact details are up-to-date.
If you use Social Media (and you really should as it is a free, visual marketing tool at all our finger tips) – start to consider your artist persona and how it may need to differ from your personal one. At the very least be aware of what you post as you start to establish your 'brand' and that your art audience may be watching.
Keep your arts based community close. Don't lose the support network you have built up at university.
Plan an exhibition for the months directly proceeding your degree show to keep you and your collector audience focused.
If you make sales at your degree show or directly after, use the proceeds wisely and invest in building a new body of artwork as you can never guarantee when the next sale will come.
And finally, avoid dramatically changing your style post graduation.
If you are interested in applying for representation with DegreeArt.com, please folow the link below for the application process:

Further sources of Post Graduate advice:
http://www.idesigni.co.uk/blog/jobs-for-fine-art-graduates-2015
https://www.prospects.ac.uk/careers-advice/what-can-i-do-with-my-degree/fine-art
And for those considering a degree in the arts, here is The Huffington Post's List of Top 10 Art Universities: http://www.huffingtonpost.co.uk/2014/06/04/top-10-uk-universities-study-art-design-2014-15_n_5444925.html