It is with great excitment that we can share the news that "Royal Blood", by Ernesto Romano will be part of the annual 2019 Terrence Higgins Trust Auction at Christies, London. The Auction will be held at Christie's Great Room on Monday, April 15. The Auction is one of London's most successful charity auctions and a night like no other. Online auction is still open for bids until Wednesday 24 April 2019 for selected lots. 
Ernesto's practice involves the use of medical records such as X-rays or MRIs of his body as a simple way to explore the very essence of being human, deprived of any feature or embellishment that may come with society or status. Ernesto believes we are all equal in the end, regardless of the jewels we wear. However, jewels and embellishments, such as glitter, gold leaf, or diamond dust, are often present in his work along with bold colours. His love for colours represents his love for life and for our humanity.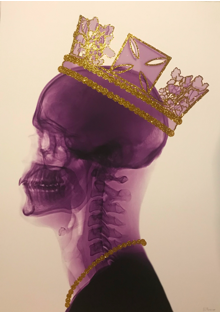 About Ernesto Romano
About The Terrence Higgins Trust
The Trust seeks to connect us with our own humanity by providing accessible HIV and sexual health services across the UK. Last year, they raised an incredible £310,000. Over its history, the event has raised £4.7 million to make a difference to the lives of people living with and affected by HIV. Event has passed
Visit the Terrence Higgins Trust's website to learn more about the charity's work and to bid online.