Katalin Macevics is an artist and illustrator based in London, UK. She grew up in Ukraine where she graduated from School of Fine Arts. Art has always been a passion of hers, since she was 2 years old, little Kate knew she wanted to be an artist. Kate's another big passion is traveling, discovering. She has visited more than 40 countries and lived in 7 of them. Traveling is one of her biggest inspirations. She loves to see new places, to feel new emotions, to experience new things. This is what makes her feel alive. But what inspires her the most in her art is a woman. She devotes her artworks to the beauty of a female body, women in general. Katalin wants to convey wonderful aura, warmth and love that come from women.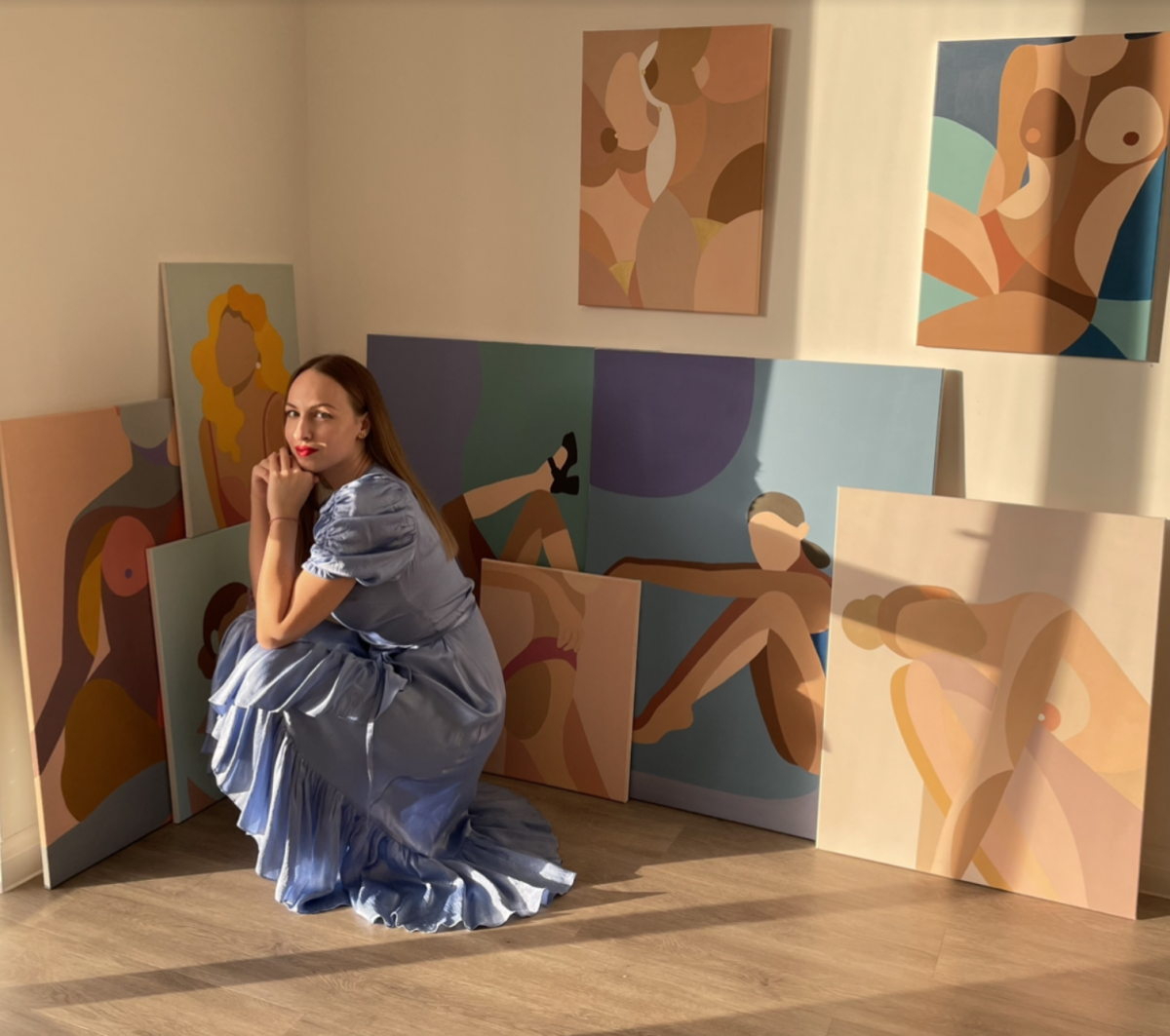 1) Which art movement do you consider most influential on your practice?
When it comes to the art movement that has had the most influence on my practice, I would say it's a combination of Cubism and Fauvism. However, I also have a strong admiration for minimalism, which can be seen in some of my artwork. Additionally, I am in love with abstract expressionism, though my paintings do not necessarily reflect this style.
2) Where do you go and when to make your best art? 
I am passionate about traveling and have a goal to visit every country in the world. The diverse cultures, people, architecture, and cuisine broaden my perspectives and provide endless inspiration for my art. As a Ukrainian, the ongoing conflict in my home country also greatly influences my work, and I aim to showcase Ukrainian culture through my paintings. Women are also a major source of inspiration for me as they possess a rich and beautiful inner world that I am captivated by. When it comes to creating my best art, I am always prepared to capture ideas through sketches whenever inspiration strikes. However, I find it important to have a calm and organised workspace so that I can fully immerse myself in the painting process. I prefer to work in a space where I have all the necessary materials readily available, allowing me to relax and focus on my craft.
3) How do you describe your 'creative process'?
My creative process is fluid and unpredictable, shaped by various influences and inspirations. To start, I like to experiment with different shapes and colours through various sketches. However, when it comes to painting on a canvas, I allow myself to fully surrender to the moment and let my emotions guide my brush. I paint with the colours that resonate with me at that moment, disregarding the initial sketches and embracing the creative flow. In essence, my creative process is a dynamic blend of planning and improvisation, shaped by the present moment and my emotional state.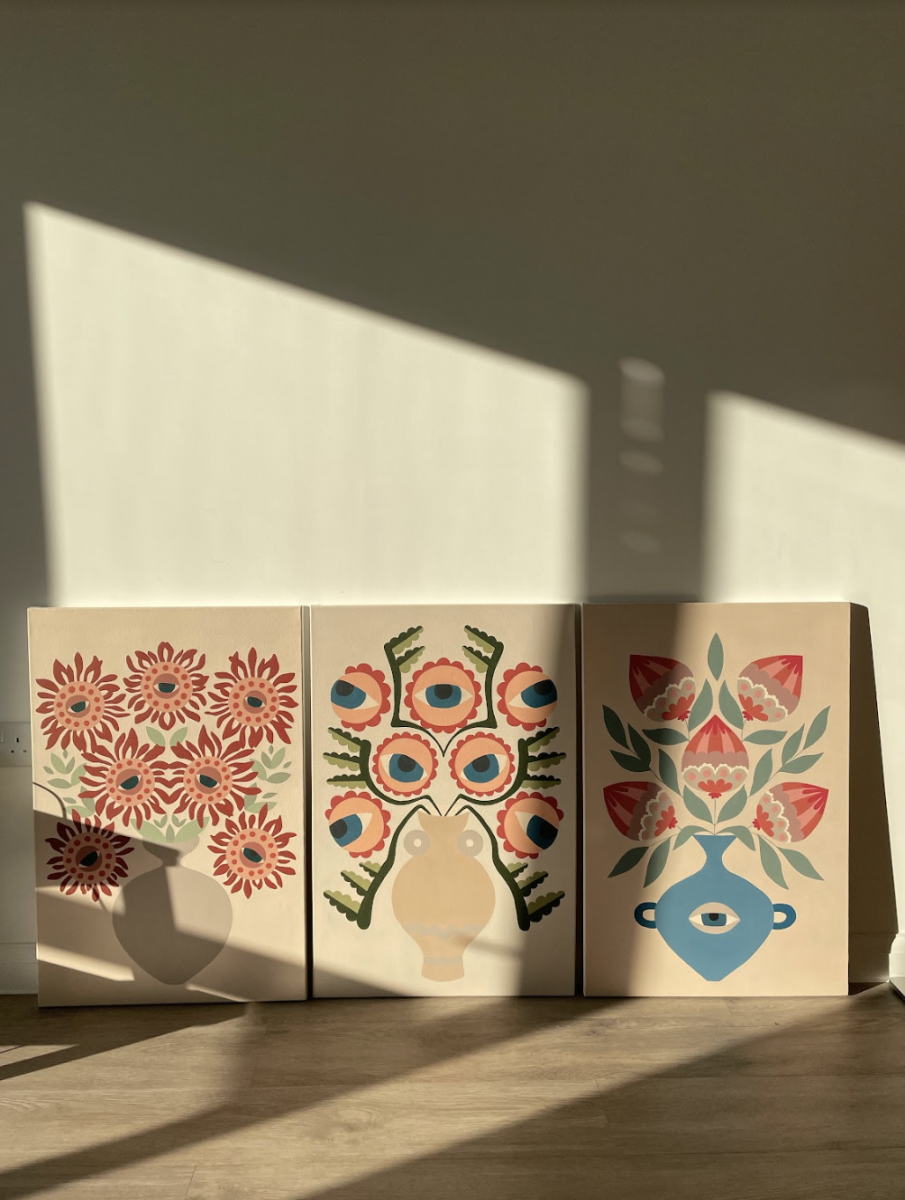 4) Which artist, living or deceased, is the greatest inspiration to you?
Art as a whole holds a great deal of inspiration for me, regardless of the medium or style. I have a strong appreciation for ceramics, interior design, and fashion, among other things. However, if I were to choose specific living artists who have particularly inspired me, I would mention Ryan Hewett, Diane Dal-Pra, and Ines Longevial. These artists have all left a lasting impression on me and continue to influence my work.
5) If you weren't an artist, what would you do?
I would probably like to be an actress or a travel blogger.
6) What do you listen to for inspiration?
It may sound strange, but I usually draw in silence or play stand-ups or other humorous podcasts in the background.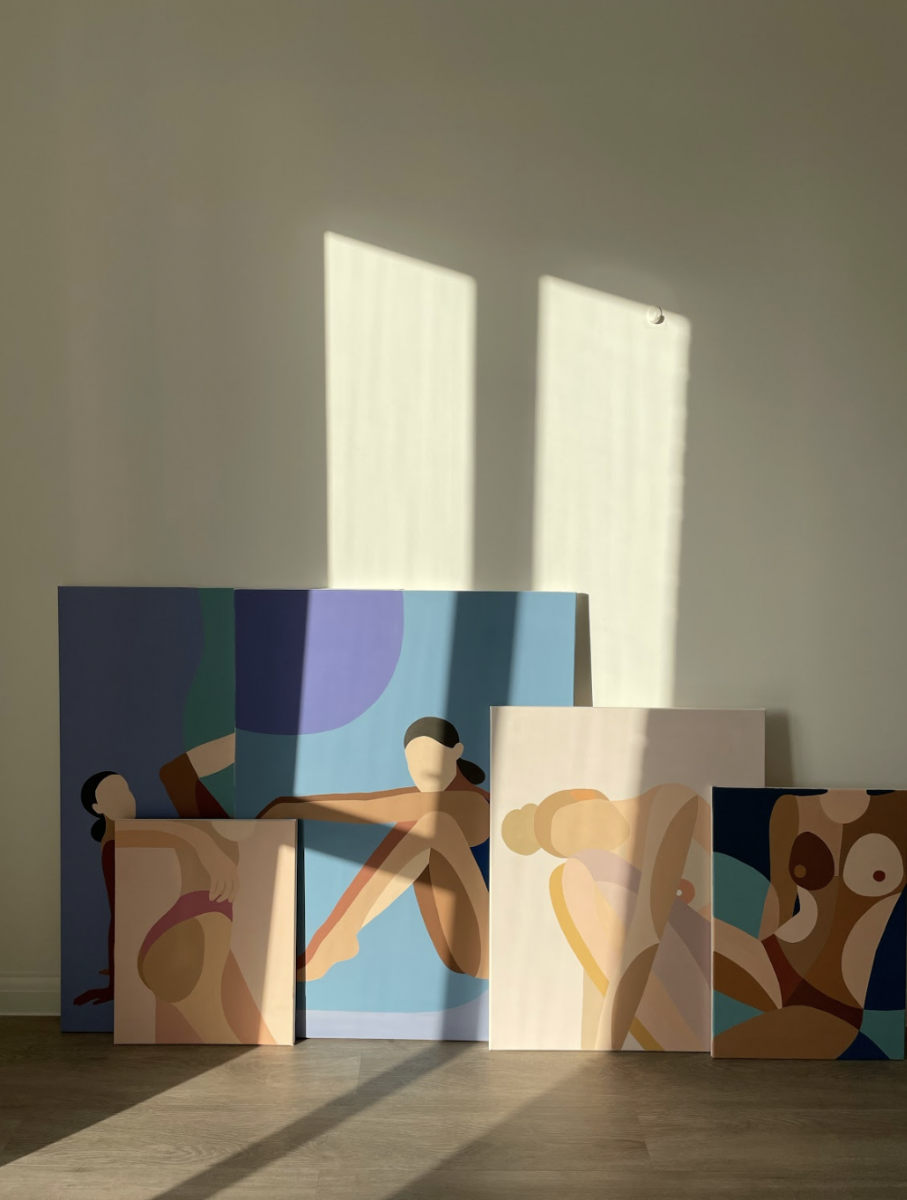 7) If you could own one artwork, and money was no object, which piece would you acquire?
If money was no object, I would choose to acquire the piece "Matin" by Claude Monet from his Water Lilies series. Monet's iconic impressionist paintings have always captivated me with their soft and dreamy aesthetic, and "Matin" is one of my favourite pieces from the series. The interplay of light and colour in this painting is simply stunning, and the peaceful, tranquil mood it conveys would bring a sense of serenity to any space. Owning a piece by such a revered artist would be a true honour, and I would cherish this piece for the rest of my life.
8) If your dream museum or collection owner came calling, which would it be?
V&A Museum in London. The V&A is renowned for its vast and diverse collection of art and design, and I would be honoured to have my work displayed among such an esteemed collection. However, I would also be thrilled to have my work showcased at the MoMA in New York or the Guggenheim Museum, both of which are renowned for their commitment to showcasing innovative and boundary-pushing contemporary art.
9) What is your key piece of advice for artists embarking on a fine art or creative degree today?
My key piece of advice for artists embarking on a fine art or creative degree today would be to never stop practicing and honing your skills. Make sure to draw as much as possible and explore different styles and techniques. Additionally, it is important to have confidence in your abilities and to trust your creative instincts. Remember that you have unique perspectives and experiences that you can bring to your work, and don't be afraid to embrace them. Finally, stay persistent and believe in yourself, as success often comes from perseverance and a strong commitment to your craft.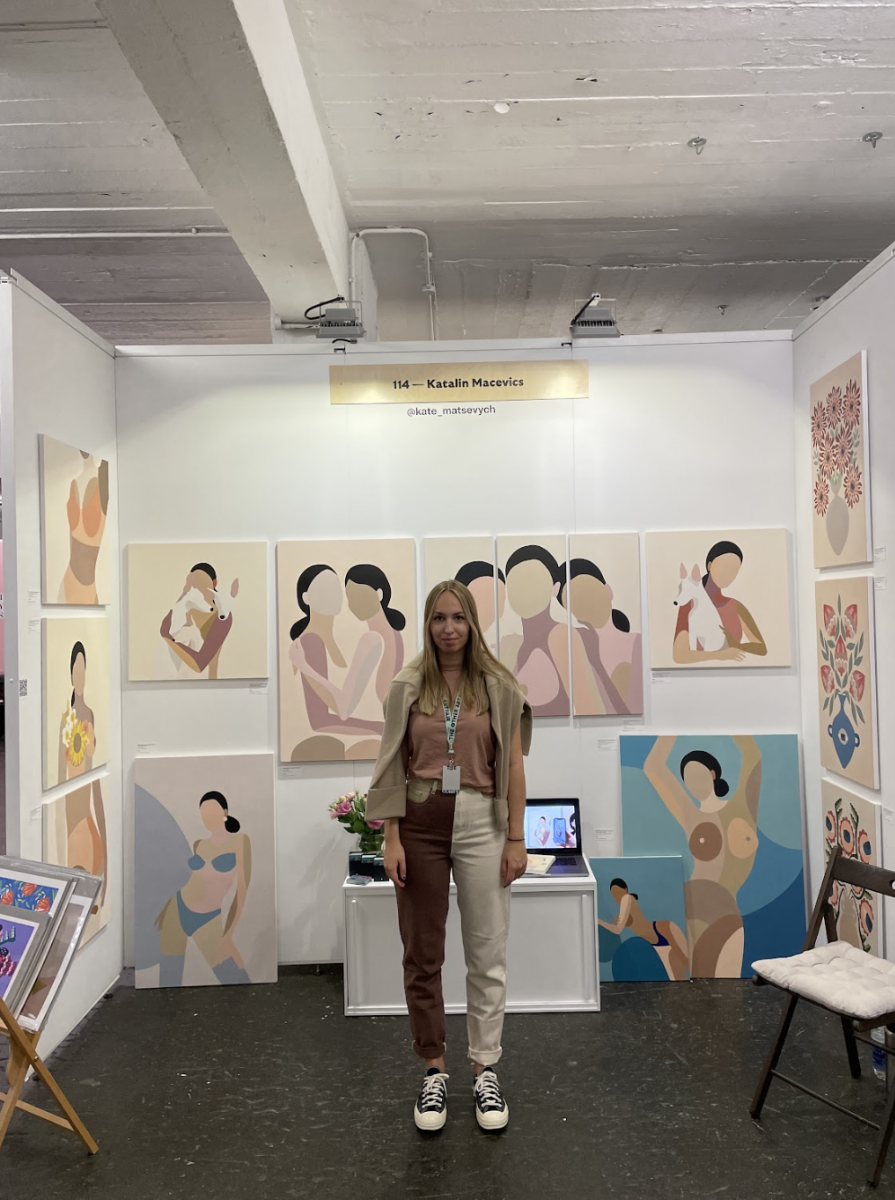 10) What is your favourite book of all time (fiction or non fiction)?
The Harry Potter book series has been my love since childhood.
11) If you could hang or place your artwork in one non-traditional art setting, where would that be?
If given the opportunity to display my artwork in a non-traditional setting, I would choose to hang it on a glacier at the North Pole. The stark and isolated beauty of the Arctic landscape would provide a stunning backdrop for my work, and the reflection of the artwork on the ice would add an additional layer of visual interest. This unique and challenging environment would be a once-in-a-lifetime opportunity to showcase my art in a truly unforgettable setting.
12) What was the biggest lesson your university course or time studying taught you?
I was taught that there are no mistakes in art, only opportunities to try new things and push the boundaries of what is possible. This realisation gave me the confidence to take risks and try new techniques, which ultimately helped me to grow as an artist and find my unique creative voice. I learned that the creative process is a journey of exploration and discovery, and that the best work often comes from taking chances and embracing the unknown.
13) And finally, if we were to fast forward 10 years, where would we find you?
In ten years' time, I envision myself living in a warm and sunny coastal location, close to the sea or ocean. I will have a large studio filled with natural light, where I can focus on creating my artwork and exploring new creative avenues. I imagine that my paintings will continue to be filled with warmth, inspired by the bright and vibrant surroundings of my new home. Additionally, my work will be widely recognised and sought after, and I will be exhibiting my art in galleries and exhibitions all over the world. I am excited to see where my journey as an artist will take me, and I look forward to the opportunities and adventures that lie ahead.

Learn more about Katalin and discover her collection of paintings.