After graduating with a B.A honours in Fine art, Siobhan Barlow moved to London where she began her many years of working with children and dogs, integrating art as much as possible. Having illustrated for several children's writers, private commissions and greeting cards, she understands the importance of deadlines and good communication. Siobhan
 works mainly in watercolour, ink and pencil and draws inspiration from comical themes such as 
monsters, superheroes, farm animals and dogs.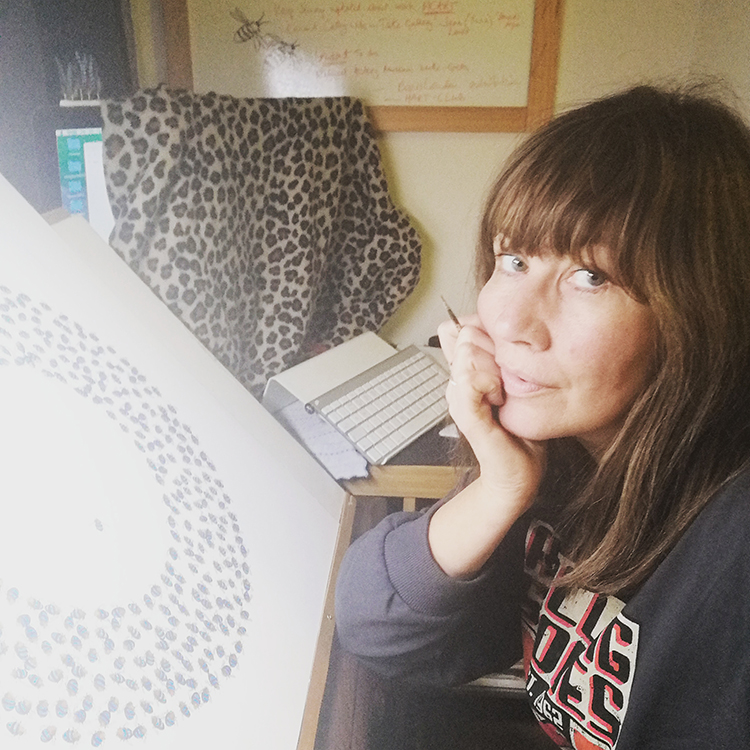 1) Which art movement do you consider most influential on your practice?
I'm not sure there is a particular movement that influences me — nature influences me.
2) Where do you go and when to make your best art?
I have a small studio in my house where I can shut the door, turn on some music and just paint.
3) How do you describe your 'creative process'?
This year I was diagnosed on the autistic spectrum, which I believe explains my artwork. I see an object of beauty in nature and I can visualise exactly how I would recreate it in my art. I very rarely draw a sketch of the idea, but rather start straight away on the original. I think I am able to do this because of my heightened visual awareness. 
I love to take a small object of beauty, like an insect, and paint it repeatedly to create a larger object but just as stunning. 
4) Which artist, living or deceased, is the greatest inspiration to you?
When I was in art college I studied sculpture where I was very inspired by Rodin — I am still a big fan.
As well as painting insects, I also illustrate and am very influenced by Quentin Blake.
5) If you weren't an artist, what would you do?
As well as being an artist, I am a dog walker, so if I didn't paint, I would continue to work with dogs, animals and nature.
6) What do you listen to for inspiration?
My inspiration is purely visual.
7) If you could own one artwork, and money was no object, which piece would you acquire?
"The Kiss" by Rodin and a whole collection of Quentin Blake's work.
8) If your dream museum or collection owner came calling, which would it be?
At this stage, all of them!
9) What is your key piece of advice for artists embarking on a fine art or creative degree today?
Enjoy your work and believe in yourself.
10) What is your favorite book of all time (fiction or non fiction)?
'Perfume' by Patrick Suskind.
11) If you could hang or place your artwork in one non traditional art setting, where would that be?
I would hang the works outdoors in nature, on trees in the woodlands, representing the insects' natural environment.
In total contrast, I would also love to see them against a metal manmade structure/building.
12) What was the biggest lesson your university course or time studying taught you?
It was a long time ago, but I remember wanting to escape from the whole art world after studying. It all seemed so complex, and I think it's only now that I really enjoy my art, as I paint exactly what I see and keep it simple.
13) And finally, if we were to fast forward 10 years, where would we find you?
Hopefully in Africa, surrounded by wild animals! But probably still in a studio, painting insects repeatedly over and over again!